Baker Hughes Masoneilan* Control Solutions
Masoneilan has provided control valve performance for over a century, optimized valve technology with digital instrumentation and innovation. Chalmers & Kubeck is proud to partner with such a highly regarded brand. We're a member of the Masoneilan Authorized Repair Center (MARC®) network, which allows us to deliver the support and service our clients need to keep their facilities operating safely and efficiently.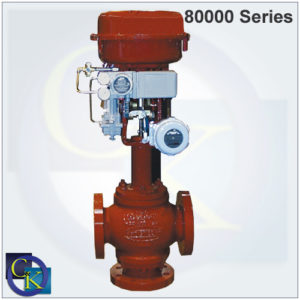 The Masoneilan 80000 Series is a three-way globe-style control valve for applications requiring either combining or diverting flow in a process control system. The open flow paths and simple construction…
Masoneilan Control Valves
C&K provides Masoneilan products in several categories, including:
Control Valves
Regulators
Instrumentation
Smart Technology
Our sizing data sheets allow us to collect information from our customers to recommend the control valve system that best meets their needs.
Why Choose C&K for Masoneilan Valves and Services?
C&K does more than sell Masoneilan brand products. We also proudly stand by them and deliver the service our clients need to keep their facilities operational. Each one of our authorized facilities is staffed by a team of factory-certified, trained technicians. Our team has undergone extensive hands-on training and passed practical and written examinations.
Masoneilan audits and inspects our facilities to ensure they comply with the brand's business, service, and technical standards.
At a MARC® facility, you can remain confident that you have access to the parts and valves you need when you need them. Our facilities maintain an extensive inventory of genuine Masoneilan valves. As part of the MARC® network, we can connect with other members to get access to even more inventory. If we don't have the part you need in stock, we can quickly track it down for you from another certified facility.
Programs and Services
When you work with C&K and MARC® facilities, you get access to a wide range of services designed to keep your valves performing at their peak. These include:
Commissioning and start-up services
Control Valve Diagnostics
ValScope® Pro diagnostic system
Maintenance planning and prediction
Asset control and records
ValvKeep® valve management software
Conversion of analog equipment to digital
Hot Swap replacement of positioners while they remain in service and functioning
Facility-wide valve inventory and assessment
Mobile Repair Trailers
Application assistance
On-site or remote turnaround planning
Valve life extension through refurbishment, upgrades, and optimization
Industry Certifications
C&K's facilities comply with relevant international, national, or regional codes and standards governing the control valve industry. We're annually audited and certified by organizations including the American Society of Mechanical Engineers (ASME), the American National Standards Institute (ANSI), and ISA.
Contact C&K Today
If your facility uses Masoneilan control valves and parts and is looking for a trustworthy repair and service center, turn to C&K. We'll give you the support you need to keep your facility running smoothly. Contact us today to learn more.