COMBINED WITH OUR IN-HOUSE MANUFACTURING CAPABILITIES WE OFFER ONE OF THE BEST EQUIPPED GEAR SERVICE AND REPAIR CENTERS IN THE COUNTRY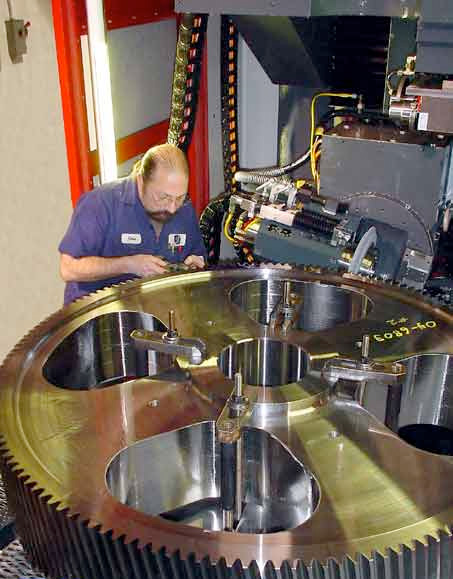 Chalmers & Kubeck provides a complete repair of any manufacturer's gear reducer or speed increaser on standard and rush basis. We are an authorized repair center for a variety of machining solutions with the ability to offer gear box applications, turn-key field services, preventative maintenance, industrial gearbox repair, and gearboxes serviced.
You can trust C&K to manufacture with precision in accordance with AGMA and DIN standards. Since 1989, C&K has been a leading member of the American Gear Manufacturers Association (AGMA), seating on the AGMA tech committee for Mill Gearing and Marine Gearing. In addition to AGMA leadership, C&K is also a member of the American Nuclear Society (ANS). We also have several work certifications, which you can view here.
Memberships
Member of American Gear Manufacturers Association (AGMA)

Since 1989
Seating on AGMA tech committee for Mill Gearing, and Marine Gearing

Member of American Nuclear Society (ANS)
Equipment
Klingelnberg Gear Checker 1600:

Max 63″ Diameter
Certified and Traceable

Klingelnberg Gear Checker PFSU 2500:
Hofler Model 2000 Form Grinder

External Grinding: Spur, Helical, Double Helical

2000mm Max O.D. – 74.740″
1500mm Max Face Width – 59″
3200mm Max Length – 125″

Internal Grinding: Spur, Helical

2000mm O.D. – 74.740″ 500mm Stroke
Preventative Maintenance
Borescope Inspection
Vibration Analysis
Oil Analysis
Thermal Imaging
Gear Division Capabilities
Complete Repair of ANY MANUFACTURER'S gear reducer or speed increaser on standard and rush basis
Reverse engineering and manufacturing of obsolete
gearboxes
Manufacturer of precision gearing to AGMA and DIN standards
In house balancing up to 5000 lbs.
Expert Gear Repair
In house no load Spin Testing
Gearbox Applications
Speed Increaser
Speed Reducer
Extruder
Pulp and Paper
Crushers and Pulverizes
Geared Compressors
Atomizers
Steel Mill, Metal Processing
Crane Hoists
Turn-Key Field Services
Field Repairs
Gearbox Repair Services
Laser Alignment
Installation
Engineering and Technical
Oversight
Authorized Repair Center For:
Siemens Flender
Kumera
SEW Eurodrive
Sumitomo
---
Gearboxes Serviced
Amarillo
Black Clawson
Bliss
Boston Gear
Brevini
Browning
Chemineer
Cleveland
Cone Drive
Danieli
David Brown
Delaval
Dodge
DO James
Ecodyne
Elliott
Falk
Farrell
Foote Jones
GE
Hamilton
Hansen
Horsburgh& Scott
IHI2.8.1.25. L&S
Lightnin Mixers
Link Belt
Lufkin
Marley
Metso
Mesta
Morse
Nord
Nutall
Philadelphia
Prager
Reintjes
Renk
SMS
Santasalo
Sterling
Terry
Twin Disc
Western
Westinghouse
Wilson Machine
Winsmith