Chalmers & Kubeck offers comprehensive gearbox services for standard or rush turnaround. As a one-stop shop and authorized repair center, we are fully equipped with machining tools and a highly skilled team. We can manage various gear manufacturing repair and maintenance services based on your specifications. With our extensive in-house manufacturing capabilities and experienced technicians, we deliver superior gearbox services and repair facilities nationwide.
We can help you address key operational needs for any requirements. Work with us for solutions to handle gearbox machining of all sizes.
Our Gearbox Machining Solutions and Qualifications
We offer a wide range of services, including preventive maintenance, gearbox servicing and repair, turnkey field services, and manufacturing. We provide gear manufacturing with precision and quality in full compliance with American Gear Manufacturers' Association (AGMA) and DIN standards. As a leading AGMA member since 1989, we've served on the tech committee for Marine Gearing and Mill Gearing. Additionally, we hold extensive work certifications and serve as the American Nuclear Society (ANS) members.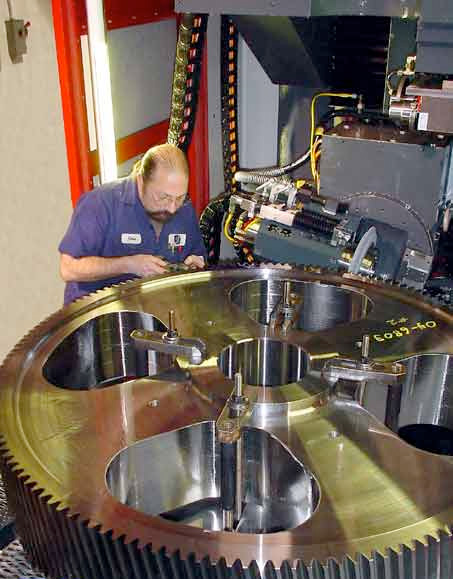 Gearbox Services Capabilities
We can provide a wide range of trusted services to fit your specifications. Let our team help you find the right solutions for your critical operations.
Our Equipment Solutions
Our advanced equipment to address your applications includes:
Klingelnberg Gear Checker 1600
Hofler Model 2000 Form Grinder for external and internal grinding
Klingelnberg Gear Checker PFSU 2500
Gear Servicing
We also offer professional services to match your requirements, including complete repairs for a speed increase or gear reducers from any manufacturer. We can meet your needs for rush or standard servicing times.
Choose us for:
Vibration analysis.
Obsolete gearbox reverse manufacturing and engineering.
Preventive maintenance.
Oil analysis.
Gear division capabilities.
Thermal imaging.
Advanced Gear Repair Applications
We are precision manufacturers of equipment that meet AGMA and DIN standards to meet gearbox equipment needs. We also provide expert gear repair, including:
Atomizers.
Speed reducers.
Steel mill and metal processing.
Extruders.
Crushers and pulverizers.
Pulp and paper.
Speed increasers.
Geared compressors.
Crane hoists.
Turnkey Field Services
When you need turnkey solutions for your operations, our team can meet your requirements with:
Installation.
Field repair solutions.
Technical and engineering oversight services.
Gearbox repair services.
Authorized Repair Credentials
We are proud to be an Authorized Repair Center for a range of clients, including:
Amarillo.
Black Clawson.
Bliss.
Boston Gear.
Brevini.
Browning.
Chemineer.
Cleveland.
Cone Drive.
Danieli.
David Brown.
Delaval.
DO James.
Dodge.
Ecodyne.
Elliott.
Falk.
Farrell.
Foote Jones.
GE.
Hamilton.
Hansen.
Horsburgh& Scott
IHI2.8.1.25. L&S.
Kumera.
Lightnin Mixers.
Link Belt.
Lufkin.
Marley.
Mesta.
Metso.
Morse.
Nord.
Nutall.
Philadelphia.
Prager.
Reintjes.
Renk.
Santasalo.
SEW Eurodrive.
Siemens Flender.
SMS.
Sterling.
Sumitomo.
Terry.
Twin Disc.
Western.
Westinghouse.
Wilson Machine.
Winsmith.
Learn More About Our Solutions
When you partner with us, you'll get reliable solutions to match your equipment repair and servicing requirements. Our highly skilled technicians can address many applications and help keep your business running smoothly. Whatever your operational needs, partner with us for prompt, expert servicing and improved long-term performance for your equipment.
Contact us today if you're interested in learning more about our services.