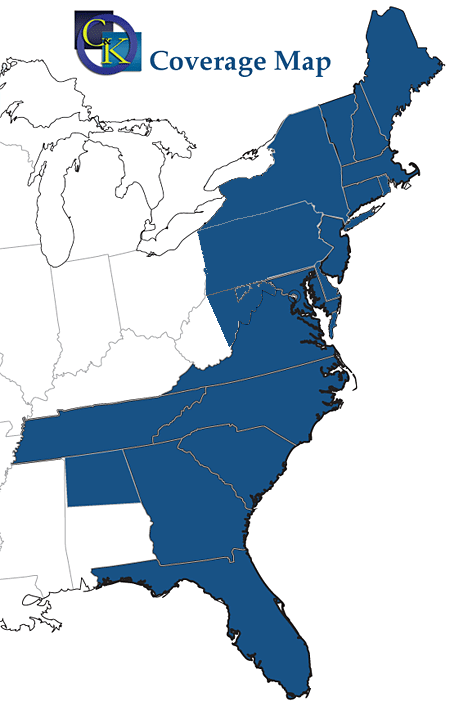 YOUR TRUSTED INDUSTRY PARTNER
Chalmers & Kubeck is a leader in manufacturing maintenance and repair with a hard-earned reputation for quality, services and complete customer satisfaction. Our state-of-the-art, three-acre facility is an authorized repairs center with ISO 9001:2015 registration for complete quality assurance. Whatever your needs for service or support for industrial equipment may be, we have the expert staff and efficient solutions to meet your needs for pumps, turbines, gearboxes, compressors and industrial valves.
Located in Aston, PA, in close proximity to the Philadelphia Metropolitan Area, C&K's flagship facility is manned by 240 dedicated, highly-skilled employees with operation hours split into two 10-hour shifts. We understand the pressing needs our clients have for prompt attention to the parts and machines that keep their businesses running, and we supply around-the-clock emergency repair, in addition to 24-hour pick up and drop off service. With a long history working with a wide range of local businesses and industries, we feature broad capabilities in handling all types of maintenance and repair jobs.
OUR EXPANSIVE MAINTENANCE CENTER
The Chalmers & Kubeck manufacturing maintenance and repair center features both a 150,000-square-foot main building, in addition to a 27,000-square-foot dedicated valve shop. With a huge machining capacity of 130 machine tools and the floor space for large parts or large quantity orders, we stand ready to meet your most demanding needs. Known throughout the region for having an impressive overhead crane lifting capacity, the facility houses a total of 22 overhead cranes with up to 50 tons of capacity.
In addition to our flagship facility in Pennsylvania, Chalmers & Kubeck is comprised of 12 strategically positioned locations to provide prompt service for businesses across the greater East Coast. Each of our C&K affiliates represents the quality and service our company name has come to represent since launching in 1950, from our northernmost facilities in New England all the way down to C&K South Sales in Central Florida. So whether your business is located in Massachusetts, New York, New Jersey, Pennsylvania, Virginia, the Carolinas, Georgia, Florida or Tennessee, you can take advantage of Chalmers & Kubeck's legendary service and top-quality manufacturing maintenance and repair.
QUALITY PROGRAMS
ISO 9001:2015 – Registered
ASME Stamp "V" – Assembly of Section I valves, Cert #21441
ASME Stamp "UV" – Assembly of Section III valves, Cert # 21442
ASME Stamp "U", "PP"
National Board "R", "TO"
Nuclear - National Board "NR-VR"
Nuclear - National Board "NR" Certificate of Authorization
Nuclear - 10CFR50 Appendix B/NQA-1 2008/09 Addendum
GENERAL COMPANY INFORMATION
Operation Hours: 2/10hr Shifts, 24HR Emergency Repair
Machining Capacity: 130 Machine Tools
Overhead Crane Lifting Capacity: 22 overhead cranes in total, Up to 75 Tons.
24 Hr Pick Up and Drop Off
Floor Space for large parts or large quantities

150,000 sq.ft. in Main Building
27,000 sq.ft. Valve Shop
50,000 sq.ft. Pittsburgh
Chalmers and Kubeck South - Covering VA, NC, SC, TN, GA, AL and FL
Chalmers & Kubeck-South (aka Valve & Actuation) is part of the Chalmers & Kubeck family of companies. Headquartered in Watkinsville (Athens), Georgia, this well-established valve and actuation organization provides outstanding customer application support from huge inventories. With facilities totaling over 75,000 sq feet, C&K-South is well equipped to provide outstanding customer service.
Factory authorizations for Consolidated® Pressure Relief Valves, Limitorque® Valve Actuation Systems, and Mastergear® Valve Gears make Chalmers & Kubeck-South the premier flow control organization in the eastern United States. With service centers (and sales) in Watkinsville, GA, Charlotte, NC, Lynchburg, VA, Cayce, SC, Chattanooga, TN,  and Mobile, AL, C&K-South is strategically located within its territory. Regional Sales offices in Orlando, FL, Atlanta, GA, Knoxville, TN, and Richmond, VA provide immediate response and application support.
Largest Limitorque® distributor in the region with massive inventories
Factory-Authorized Blue Ribbon® Service Centers for Limitorque® Actuation
Complete Valve Adaptation and Calibration Service, shop & field
MOD 2000 Analog Positioner
Limitorque® Field Service with IMMEDIATE response
Consolidated® Green Tag Service Centers
$5 Million in Combined Inventories Available for Shipment Today
ASME Section I Certified
ASME Section VIII Certified
NBBI VR Certified Repair
Largest Inventory Available for Immediate Delivery
Mounting Hardware
Special Modifications
Application support
Chalmers and Kubeck North - Westfield, MA
The Chalmers and Kubeck North shop is Located in Westfield, Massachusetts at the intersection of Interstate 91 North/South and Interstate 90 East/West; at the approximate geographic center of the area routinely serviced. The facility with 15,000 square feet under roof includes a fully equipped machine shop; 10-ton overhead cranes; safety valve high pressure steam, air, and liquid test capability; ample work/laydown space; and inside storage areas for new valve, and replacement parts inventories. Skilled Technicians and OEM (Original Equipment Manufacturer) affiliations result in the ability to provide factory trained technicians for specialized work.
Rapid Response, High Quality and Full Service:
Approved VR Program for safety valves, audited by, and under the jurisdiction of the National Board of Boiler Inspectors. Specialized equipment includes safety valve inline setpoint verification capability
Factory-Authorized "Blue Ribbon" Service Center and Distributor for LIMITORQUE
Authorized Service Shop, and stocking distributor for VELAN VALVE
DRESSER Green Tag Service Center; Stocking Assembler of Consolidated Safety Valves, and Distributor of OEM Replacement Parts
Member of the Valve Repair Council (VRC) - the OEM approach to repair
Repairs to pumps, turbines, compressors, rotating equipment and gearboxes fully supported by Chalmers and Kubeck - Aston, PA