Velan was founded in 1950 in Montreal when A.K. Velan created the concept for a new steam trap. Since then, the company has grown into a world leader in valves and steam traps, with over 1,600 employees and 12 production facilities. In partnership with Chalmers & Kubeck in the non-nuclear Thermal Power Generation market, Velan continues to thrive.
Find Velan Power Solutions With C&K
Chalmers & Kubeck is a regional Power Market Distributor for Velan Line Valves and genuine Velan OEM Parts.  We support the conventional / combustion power generation market, which uses a variety of fuel sources:
Biomass
Coal
Hydrogen
Natural Gas
Oil
Petroleum
Velan produces some of the most trusted and reliable line valves used in power plant installations whether they have direct-fired boilers, gas turbines, or gas turbines with Heat Recovery Steam Generators (HRSGs), also known as combined cycle power plants.
Velan Valves Supported:
Pressure Seal and Bolted Bonnets — gate, globe, and check
Cast Steel Valves — gate, globe, and check
Dual Plate Check Valves
Forged Steel Bonnetless Y-pattern
Forged Steel Valves — gate, globe, and check
Velan After Market Services:
Velan OEM Parts – stems, seats, disks, guides, soft goods, etc.
Velan Repair Services – we ensure your Velan Valves are restored using genuine Velan Parts and Velan Certified Repair Techniques.
New Velan Replacement Valves – Ultra/Flex Wedge Gate, Parallel Slide Gate, Angled and Y-pattern Globe, Piston and Y-pattern Piston Check, Swing Check, Tilting Disk Check, Ball, and Triple-Offset Butterfly Valves.  Vent and Drain Valves.
Engineered Upgrades for Problem Valves (e.g. Valve Hardfacing Disbonding Solutions)
Velan, a world leader in the valve industry, is committed to superior performance through innovative designs, quality-controlled production, product testing, and lifecycle services. At C&K, we distribute and support Velan Line Valves and Parts, because it aligns with our mission to bring our customers best in class industrial solutions and then supporting those products — going the extra mile every time. When you turn to C&K for Velan power solutions, we'll discuss your needs in-depth to identify the best component for your applications.
Our Authorized Service Centers
You can purchase Velan parts at C&K locations, and we're your partner in long-term component wear. C&K currently has two Velan-authorized service centers that can assess the health of your equipment and keep your systems functional in the long run.
Our Westfield, MA location is a service level II center that has repair, modification, and testing capabilities. Our Philadelphia location is a service level III center that provides basic repairs, testing, and modifications. Trust our C&K North and C&K Aston locations to keep your Velan parts reliable.
Turn to C&K for Every Need
You can count on C&K whenever you need Velan parts, but we offer much more to your team. Our inventory consists of approximately 15 million in components from leading brands like GESTRA® and ZOOK®. We're also your trusted partner for a range of services that support your team through production projects, maintenance schedules, and unexpected emergencies.
Turn to us for the following services:
Our commitment to your operation's success goes much further than selling you a product. We're your partner in industrial repair and maintenance. Whether you're looking for new components or need to revamp an old one, we're a phone call away. With quality programs like ISO 9001:2015 in effect and expansive maintenance centers at our disposal, you can trust us to deliver reliable service solutions.
Contact Us About Velan Equipment Today
C&K can meet your industrial maintenance needs with Velan parts and authorized service centers. Our team is highly trained and committed to delivering high-quality results, regardless of your project's scale. We have a two-shift structure that allows us to operate quickly, and our extensive understanding of Velan components enables us to identify the best products for your needs.
Get in touch with us today to learn more about our Velan inventory.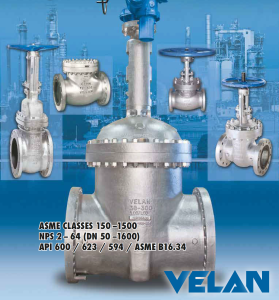 Velan's cast steel valves set the standard for low emissions and tight shutoffs in the power and process industries. Velan's extensive line of cast steel gate, globe, and check valves…