Proquip Dual-Plate Check Valves by Velan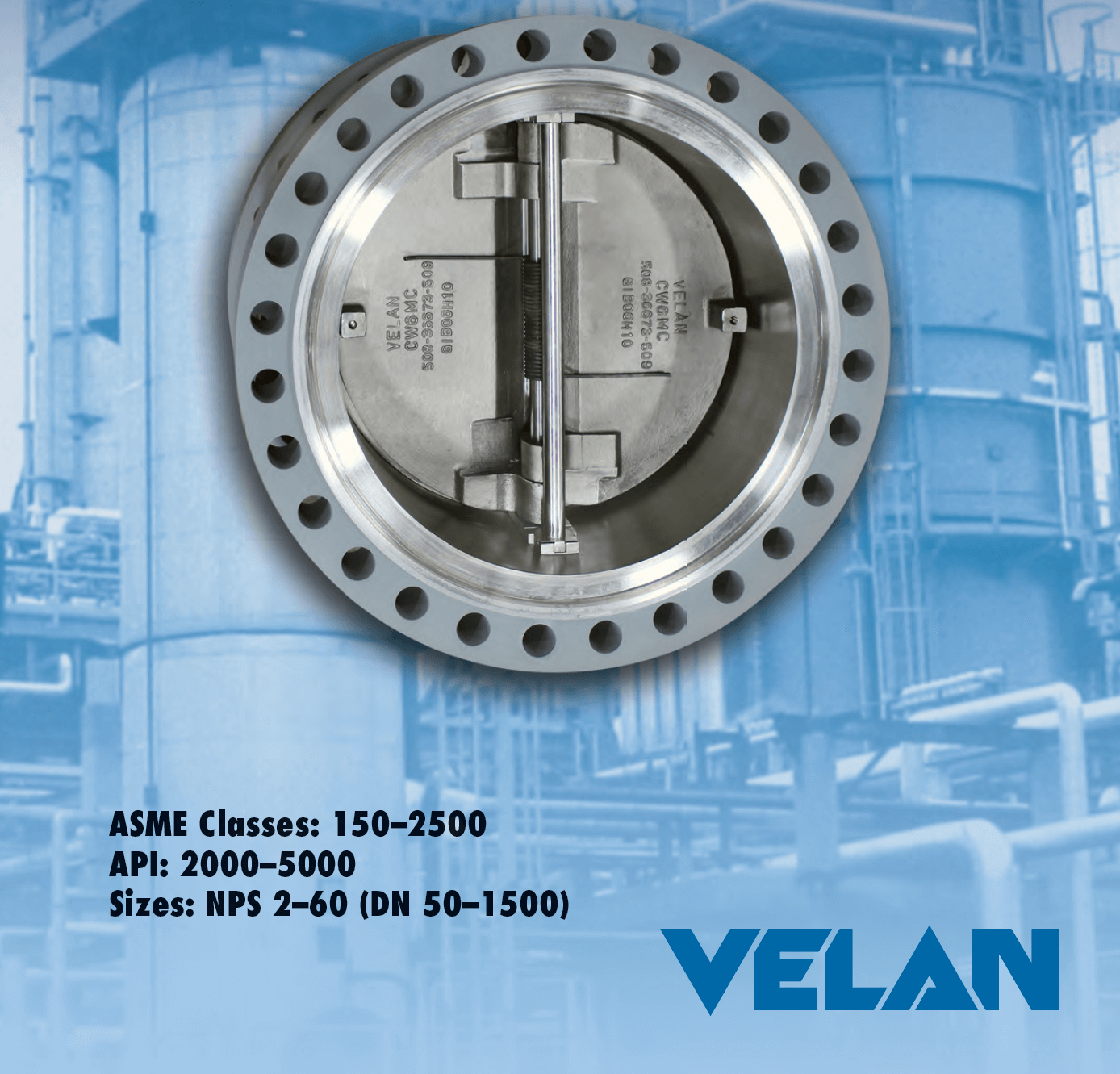 Velan Power Generation
Proquip Dual-Plate Check Valves by Velan
Velan manufactures Proquip dual-plate check valves to handle an extensive application range across various industries, from mining and offshore operations to chemical and wastewater facilities. The valve design ensures a much lighter-weight product than conventional full-bodied swing alternatives, offering significant savings in space, initial cost, and pipe-support element installation.
Since 1950, Velan has been a global leader in designing and producing a comprehensive catalog of forged and cast valves, delivering superior quality and performance across all major industrial applications. Chalmers & Kubeck is happy to partner with Velan to supply an extensive product selection to handle all your needs. C&K proudly stands behind Velan valves and supports them with exceptional in-house and on-site expertise throughout the product life cycle.
Features And Benefits
Velan dual-plate check valves contain reduced-weight discs that minimize water hammering and slamming. The sides of the disc hinge, reducing gravity's effects and decreasing energy costs when installed horizontally. These valves also feature an emission-free design with no holes through the body wall, eliminating leakage to the outside.
Primary features include:
An intrinsically fire-safe design
A body surface with uninterrupted gasket coverage
A maximized flow path area through the valve with a low-pressure drop
Additional benefits include:
The springs quickly respond to flow reversal, decreasing stress and increasing service life.
The shock bumpers increase the cycle life of internal components, with minimal wear in harsh conditions.
The clearance between the disc hinge and hinge pin extends seat life, minimizing dragging effects.
The valves meet or exceed API 598 test requirements for metal-seated check valves.
Common Applications
Velan Dual-Plate Check Valve Types
C&K offers several different designs of Velan Proquip dual-plate check valves, including:
Wafer Type: Wafer-type dual-plate check valves feature standard wafer connections and come in sizes ranging from 2 to 60 inches in nominal pipe size (NPS) and 50 to 1,500 millimeters in nominal diameter (DN). These valves cover the American Society of Mechanical Engineers (ASME) pressure classes from 150 to 1500.
Solid Lug Type: These designs utilize standard lug connections, with sizes ranging from 2 to 48 inches NPS and 50 to 1,200 millimeters DN. They offer ASME class pressure ratings from 150 to 2500 and American Petroleum Institute (API) pressure ratings from 2000 to 5000.
Double Flange Type: Double-flange designs offer standard flange connections in sizes from 12 to 60 inches NPS and 300 to 1,500 millimeters DN. These valves cover ASME class pressure ratings from 150 to 900.
Hub End Type: These valves feature designs using standard hub connection types, with sizes from 2 to 24 inches NPS and 50 to 600 millimeters DN. They offer pressure ratings in ASME classes 600 through 2500.
Butt Weld End Type: Butt-weld valves use standard butt weld connections. They come in sizes ranging from 3 to 36 inches NPS and 80 to 900 millimeters DN. Pressure ratings vary from 150 to 600 in the ASME class.
Contact the Experts at C&K Today
If you're interested in learning more about how Velan dual-plate check valves can benefit your application, the experts at C&K can guide you. We have decades of experience supplying valves to an extensive industry range, gaining a reputation for exceptional quality and superior customer service. Contact us online today to get started.