WE'VE BEEN THE SERVICE SUPPLIER YOU CAN TRUST SINCE 1950, UTILIZING OUR MODERN EQUIPMENT AND INDUSTRY EXPERIENCE TO HELP KEEP YOUR BUSINESS RUNNING.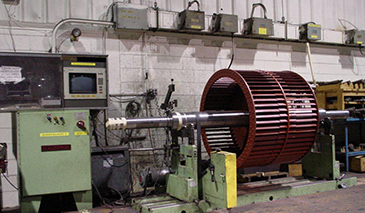 The Maintenance Machining Department of Chalmers & Kubeck provides comprehensive industrial equipment repair and overhaul services for businesses in the Philadelphia area and select cities across the Eastern Seaboard. Open 7 days a week with 24-hour emergency and field machining services, we are uniquely equipped in the industry for comprehensive parts manufacturing and repair. No matter your business or application, C&K has the experience and dedication to meet your general machining needs.
Each of our eight maintenance and machining locations features rotating equipment and reciprocating equipment, in addition to large part capabilities. Our machine shops are AutoCAD 2000 capable, have impressive 50-ton crane capacity and provide everything from chrome plating to metal stitching and crack repair.
Machining Capabilities
Conveyors
Blowers
Turbines
Centrifuges
Vacuum Pumps
Industrial Fans
Compressors
Machining Field Services Department
Machining Field Services Department
Self-contained mobile machining trailers and vehicles
Flange facing up to 50″ Dia. (In House), 120″
(Rental Equipment)
In-line boring up to 50″ Dia.
– Including gasket surfaces of pump barrels
– Hard face removal
– Weld build up
– Finish machining seat angles
– Up to 5″
– 48″ x 120″
Bearing journal sleeve repair
– 24″ Dia. Max
– Relocating
– Enlarging
– Repair
– Resurfacing gasket area
– Milling of division plates
– Up to 16″ Dia.
Weld preparation
Equipment Modification
– Welding
– Boring
– Counter boring
– Facing
– Drilling
– Tapping
Laser alignments
Field balancing
Vibration analysis and long term data mapping