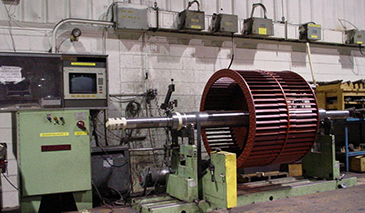 Preventive maintenance is critical to keeping your equipment running consistently with optimal performance. At Chalmers & Kubeck, we offer trusted machining services to maintain your equipment for long-term use. Our experienced team can address your specialized maintenance needs and provide tailored services for your application.
Field Service Machining
The C&K Maintenance Machining Department offers multiple overhaul services and industrial equipment repair solutions throughout Philadephia and select Eastern Seaboard cities. Our technicians bring extensive experience to complete repairs, find replacement parts, troubleshoot, and fulfill other requirements.
We're open seven days a week and provide 24-hour field service for emergencies. When you require routine maintenance or urgent repairs for critical machinery, the team at C&K can deliver. With our dependable equipment, including reciprocating and rotating machines, we can address many different repairs or significant part issues.
At our 13 east-coast facilities, AutoCAD 2000-capable machine shops and 50-ton crane capacities deliver the performance to handle your machinery. From crack repair to metal stitching, we can manage all your requirements with one-stop-shop solutions.
Machining Capabilities
Our durable machines offer extensive capacities to fit your applications. When you need our maintenance and machining services, our team will work with you to find the ideal solution for your situation. We can repair or provide routine maintenance to multiple machines, including:
Compressors.
Industrial Fans.
Conveyors.
Turbines.
Vacuum Pumps.
Centrifuges.
Blowers.
Machining Field Services Department
When you need on-site repairs, our field services department can help. We offer several solutions, including services for:
Equipment Modification: We use boring, drilling, facing, tapping, and welding to modify your equipment as needed for your applications.
Self-Contained Mobile Machining Vehicles: Our team offers field services for repairing mobile trailers and machining vehicles at your work site.
Valve Seat Repairs: We ensure your machinery can operate safely and effectively.
Stud Removal and Tapping: We can handle stud removal and tapping requirements for your applications on the job.
Machine Base Milling: We have the expertise and tools to manage machine base milling requirements.
Bearing Journal Sleeve Repair: If you need repair services for equipment components, our team can provide efficient and accurate services.
Key-Way Milling: Our capabilities for servicing also include key-way milling offerings for your applications.
Heat Exchanger Repair: We can repair heat exchangers to keep your equipment running efficiently.
Pipe Cutting: We have the tools and training to manage pipe cutting requirements for your machinery.
Weld Preparation: Our team can handle weld preparation to save you time and resources.
Laser Alignments: Using the latest technological solutions and tools, we accurately align lasers for any operation. 
Field Balancing: In most cases, we can balance your equipment and parts without removing them from the machine.
Long-Term Data Mapping and Vibration Analysis: We offer specialized expertise and tools to address data mapping and vibration analysis requirements.
Partner With Us for Trusted Solutions
Since 1950, we've been a trusted service provider helping our clients keep their businesses running. Our team can help you get optimized performance from your machinery with innovative equipment and wide-ranging industry expertise.
Reach out to us today if you need repairs or want more information.