Rupture disks keep your plant safe. Chalmers & Kubeck is pleased to be a representative for Zook, one of the most well-known names in rupture disks worldwide.
Zook rupture disks break when the pressure in a system reaches a certain point to prevent over-pressure situations, whether planned or unplanned.
In addition to providing rupture disks, C&K has partnered with Zook to provide our customers with other safety solutions, including burst sensors and explosion vents.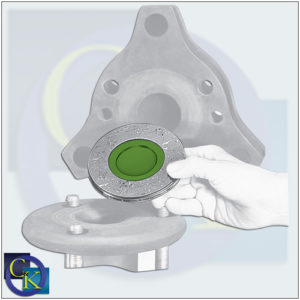 The RC Series is designed to fit standard AAR 2″ metal seated safety vents.
Types of Zook Rupture Disks
Zook produces many types of rupture disks, including:
How to Choose the Right Zook Rupture Disk
Size is one of the most important considerations when choosing a rupture disk. Zook has launched a program to make sizing easier. The Z-Size application calculates the correct size based on a few provided values.
If you need further assistance choosing the correct rupture disk, C&K is here to help you. We offer a wide selection of Zook rupture disks, and our team of solution specialists is happy to assist you in choosing the right product.
Contact C&K Today
C&K has decades of experience working with various industries to keep process equipment protected and functional. We're proud to partner with Zook to offer rupture disks that provide stand-alone overpressure protection when used with consolidated pressure safety valves.
With 13 facilities and an inventory of 15 million, we aim to be your one-stop shop for all your industrial manufacturing, repair, and maintenance needs. Contact us to learn more about the Zook products we offer.