World-Class CNC Machining Capabilities
CNC Manufacturing offers machining services with consistent high quality results for large components including CNC milling and turning services for the nuclear, power, marine, chemical, heavy construction, hydroelectric and transportation industries. Whether your project is a prototype or production run, small to large size or quantity, we have the skills and expertise to get the job done. Our multi axis CNC milling machines are capable of working with parts up to 30′ (360″) in length x 13′ (156″) high. Additionally, our CNC turning centers are capable of turning parts at 32′ (384″) diameter x 10.5′ (126″) high.
Capabilities
AutoCad/Cadcam (Unigraphics NX)
Small and large machining capabilities
50 Ton Overhead Crane Capacity
Vertical Boring Mills 32′ Dia. x 10.5′
Horizontal Mills Capacity 13'x30′
Faro Edge Inspection Aim with Laser Scanner
Laser Trackers
Faro Ion & Vantage
Floor Type Horizontal Boring Mill
Kobe: Ø144″ Table, 76″ Under Rail
Titan Mill: 80″x90″ Rotary Table, X Travel: 30′ (360″)/
Y Travel: 98″ High
Pegard: 144″ Square Rotary Table, X Travel 30′ (360″)/
Y Travel: 156″ High
Vertical Boring Mills
Kobe: Ø144″ Table, 76″ Under Rail
Olympia: Ø60″ Table, 56″ Under Rail
Titan Vertical: Ø32′ Max Swing (15.5′ Table Dia.), 126″ Under Rail
Horizontal Boring Mills
Sacem – 4 Axis: 98″ x 98″ Rotary Table,
X Travel: 154″/Y Travel: 115″
SNK – 4 Axis: 63″ x 86.5″ Rotary Table, X Travel: 137.8″/
Y Travel: 99″
KITAMURA – 4 Axis: 24″ Sq. Rotary Table, X Travel: 39.4″/
Y Travel: 31.5″ – Pallet Changer/ Side Loading
Other Milling Centers
MV65 – X Travel: 64″/ Y Travel: 25″
Other Turning Centers
SL-25: 9″ Dia. Max Capacity, 24″ Between Centers
SL-35: 12″ Dia. Max Capacity, 60″ Between Centers
HAWACHEON: 32″ Dia. Max Capacity, 16′ Between Centers
Over Carriage
WE OFFER A FULL-SERVICE MANUFACTURING FACILITY WITH VARIOUS CAPACITY CNC MACHINES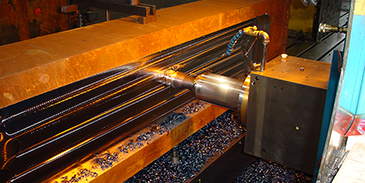 The Chalmers and Kubeck CNC Manufacturing Department represents the cutting-edge in small and large machining capabilities in a full-service manufacturing facility. Located just outside Philadelphia, in Aston, PA, our dedicated CNC manufacturing and repairs location supplies unmatched quality, service and technical proficiency with AutoCad/CadCam (Unigraphics NX), Faro Laser Tracker and Romer 3000i Inspection Arm capabilities.
Chalmers & Kubeck, Inc., Manufacturing Division specializes in all types of manufacturing and repair services for equipment manufacturers, steel mills, power utilities, oil refineries, pulp/paper mills, chemical companies and pharmaceutical companies. With over 250 skilled employees, Chalmers & Kubeck is an expert in industrial repairs and maintenance of all types. Their three acre facility, with up to 50 ton crane capacity, can handle any job from large to small. ISO 9001:2015 registration is further proof of this commitment to leading the industry in quality, service, and customer satisfaction.
WE USE THE MOST TECHNOLOGICALLY INNOVATIVE BORING EQUIPMENT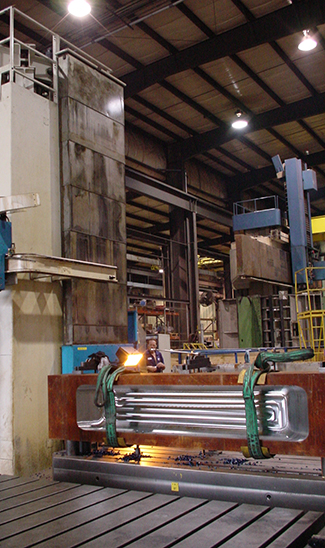 The many value-added services offered by Chalmers & Kubeck include CNC Manufacturing. Our full-service manufacturing facility, located not far from Philadelphia in Aston, PA, is equipped with state-of-the-art small and large capacity CNC machines that can perform close tolerance machining to meet your company's specifications. Our CNC Manufacturing services are backed by more than 60 years of machine shop experience. By using some of the most technologically-advanced boring equipment available, we are able to perform boring functions with the highest possible levels of precision. Our boring machines include horizontal boring mills featuring a table size of 59" W x 79" L and a 72" H head travel. We also have a 4-axis horizontal CNC boring mill with a 98″ square table size and 154" travel with a 115" H head travel, as well as 5-axis floor type horizontal CNC boring mills equipped with a horizontal travel of 30 feet and a head travel up to 156". Our boring equipment also features a vertical boring mill capacity of up to 32 feet with 10 feet under the rail.
Other CNC Manufacturing Capabilities
C & K can perform computer modeling and virtual machining with the help of NX (formerly known as Unigraphics), a highly advanced CAD/CAM/CAE software program specifically designed to provide efficient machine tool control in the manufacturing process. Our CNC manufacturing equipment also includes high-performing lathes offering a turning capacity of up to 32' dia. X 17' between centers. Additionally, we make use of cutting-edge CNC machining centers that are capable of meeting your small machining needs with speed and efficiency.
To learn more about CNC Manufacturing from C & K, as well as the rest of our industry-best machine shop services, call James Kirk at 610-494-4300 ,ext. 258, or Chadd Criddle at 610-283-1437. Put more than six of decades of machining expertise to work for your business.