World-Class CNC Machining & Manufacturing Services
The Chalmers & Kubeck, Inc. CNC Machining Department is a valued service provider to many industrial manufacturing companies and OEMs. Our ability to both fabricate and machine critical tolerance components on a compressed schedule makes us the go to choice to support your production projects, maintenance emergencies, and outages (planned or forced). If you're looking for CNC machining services in Aston, PA, you can trust us for world-class options and certified solutions. We understand the impact that critical downtime has on your operations and in turn on your customers which is why the OEMs place their trust in C&K. We understand SERVICE!
The C&K CNC Machining Department offers consistent high-quality milling and turning services for a variety of industrial companies, equipment manufacturers, fabricators, forging houses, power generation: nuclear / fossil / natural gas / hydro, oil refineries, marine terminals and vessels, mills: steel / cement / pulp / paper / plastic / rubber, chemical, heavy construction, and chemical / pharmaceutical companies. We're fast, and we build our success on a foundation of quality and reliability. Our machining services produce consistent high precision CNC machined parts to support a wide range of industrial applications.
Whether your project is emergency service, a prototype, or a production run, and anywhere from small to super large, we have the skills and expertise to get the job done. With our ISO 9001:2015 registration and 10CFR50 Appendix B / NQA-1 Nuclear Quality Program, we specialize in the manufacture of high precision components for the energy sector including critical Nuclear Safety Related applications.
Benefits of CNC Machining Services for Your Company
CNC machining, also known as computer-numerical control machining, is a more efficient way to manage manufacturing operations for production applications, parts with complex geometries, or critical parts that must be manufactured right first time. Once the CNC machining program is proven on the first article to be manufactured, the CNC Machining process is repeatable and becomes the ideal method to manufacture multiple parts for a production run. The CNC Machining Process is also more efficient than manual machining process when it comes to machining complex geometries and can often produce profiles that are not even possible with manual machine tools. For small production runs or a run of one high dollar component that has a long lead casting, forging, or fabrication, it is crucial that the machining processes are performed flawlessly the first time as the cost and schedule implications of an error can be catastrophic. With CNC Machining, the part to be machined can be completely modeled to ensure that all the features are in the correct relative locations and the tool paths can be simulated and validated before a single cutting tool touches the part. In conjunction with a robust manufacturing plan, CNC Machining processes significantly reduce the potential for error and help ensure that your part or component is manufactured correctly and efficiently.
CNC Machining services offer multiple advantages over traditional manufacturing technologies. For example, CNC machining is:
Repeatable & Scalable: Utilizing saved proven manufacturing programs, CNC machining processes are inherently repeatable and are designed to speed up your work process so your business can maintain that competitive edge. That same repeatability leaves plenty of room to scale up as production demands increase.
Cost-Effective: CNC turning and milling processes can produce complex geometries and profiles much more accurately and efficiently than manual machine tools which leads to a better and more affordable end product.
Robust: Human error can lead to major setbacks for manufacturing companies. With a CNC manufacturing process, care is taken to eliminate as much human error as possible by utilizing computer modeling, cutting tool path simulations, and a validated machining program that is efficient and repeatable.
C&K offers every type of solution, including multiple vertical and horizontal boring mills. You can learn more about our cost-saving options by checking out our full-service CNC Machining and Manufacturing Facility.
CNC Capabilities
Cadcam (Unigraphics NX) w/ Solid Model Capabilities
50 Ton Overhead Crane Capacity
Vertical Boring Mills 32′ (384″) Diameter x 10.5′ (126″) High
Horizontal Mills Capacity 30′ (360″) Long x 13′ (156″) High
Faro Edge Inspection Arm with Laser Scanner: Component Replication and Inspection
Faro Ion & Vantage Laser Trackers: Alignments, Layouts, Leveling, and Inspection
Floor Type CNC Horizontal Boring Mills
TITAN Mill: 80″x90″ Rotary Table, X Travel: 30′ (360″) /
Y Travel: 98″ High
PEGARD: 144″ Square Rotary Table, X Travel 30′ (360″) /
Y Travel: 156″ High
CNC Vertical Boring Mills
KOBE: Ø144″ Table, 76″ Under Rail
OLYMPIA: Ø60″ Table, 56″ Under Rail
TITAN Vertical: Ø32′ Max Swing (15.5′ Table Dia.), 126″ Under Rail
CNC Horizontal Boring Mills
Sacem – 4 Axis: 98″ x 98″ Rotary Table,
X Travel: 154″/Y Travel: 115″
SNK – 4 Axis: 63″ x 86.5″ Rotary Table, X Travel: 137.8″/
Y Travel: 99″
KITAMURA – 4 Axis: 24″ Sq. Rotary Table, X Travel: 39.4″/
Y Travel: 31.5″ – Pallet Changer/ Side Loading
Other CNC Milling Centers
MV65 – X Travel: 64″/ Y Travel: 25″
Other CNC Turning Centers
SL-25: 9″ Dia. Max Capacity, 24″ Between Centers
SL-35: 12″ Dia. Max Capacity, 60″ Between Centers
HAWACHEON: 32″ Dia. Max Capacity, 16′ Between Centers
Over Carriage
Our Full-Service CNC Machining & Manufacturing Facility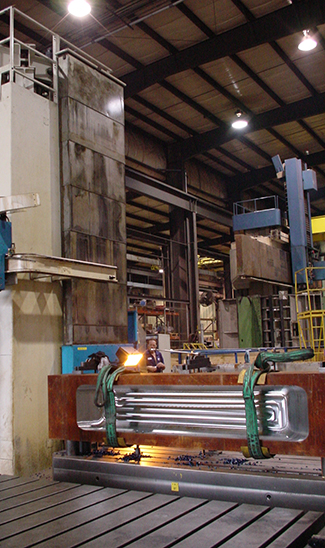 Our full-service machining and manufacturing facility in Aston, PA is located right off the I-95 industrial corridor between Philadelphia and Wilmington, DE. With a 150,000 square foot facility and 22 overhead cranes that can handle up to 50 Tons, C&K is set-up to handle your largest fabrication and machining needs. We run a dedicated two-shift operation so we can turn your projects around in a timely manner and respond quickly to your plant outages and critical path machining needs. We've been doing this for over 70 years and our team is one of the best in the business.
When it comes to complex configurations and tough to machine materials, our experience sets us apart from the competition. We understand that our engineers and machinists are our most valuable resources; we engage them early on during development of the manufacturing plan and build quality into our process. C&K uses NX (formerly known as Unigraphics), a highly advanced CAD/CAM/CAE software program specifically designed to provide efficient machine tool control in the manufacturing process, to perform computer modeling and virtual machining ensuring that your critical component will be manufactured to specification.
Using some of the most technologically-advanced machine tools available, the C&K CNC Machining Department drills, reams, bores, taps, mills, threads, and turns metallic and non-metallic parts with the highest levels of precision. Our boring machines include a horizontal boring mill featuring a 63" x 86.5" rotary table with 137.8″ travel length and a machining head that can travel 99″ high. Another of our 4-axis horizontal CNC boring mills has a 98″ square rotary table that has 154″ of travel and a cutting head that can reach 115″ high. We have two-floor type horizontal boring mills each with an impressive 30 feet of column travel. The larger of the two-floor type horizontal mills has a 144″ square rotary table with a cutting head that can reach 156″ high! Our boring equipment also features a vertical boring mill (vertical turning center) with a 15.5-foot diameter table that, with the use of outriggers, can swing 32 feet in diameter and up to 10.5 feet high!
Our commitment to quality extends beyond the physical parts we machine and includes a complete documentation package that contains material testing certifications, welder qualifications, heat treatment records, Non-Destructive Evaluation (NDE) reports, and dimensional inspection records. Depending on the complexity of the component and customer requirements, the documentation package frequently contains final inspection reports generated from our FARO Edge Inspection Arm or FARO Laser Tracker.
Why Choose C&K Machining & Manufacturing Services?
The Chalmers & Kubeck, Inc. CNC Machining Department offers custom machining services in Aston, PA for critical components and parts, maintenance emergencies, and customer outages. With C&K, you can be confident that you're dealing with professionals who take pride in their work and are committed to your needs in both in terms of customization and quality. Because we serve as a one-stop shop for manufacturing, maintenance and repairs, we have the flexibility to provide the precision services and solutions you need when you need them. C&K looks forward to delivering the fast high-end results that you expect.
Give Us a Call Today
If you need CNC Machining & Manufacturing Services in Aston, PA, we'll deliver a high-technology solution you can trust. Contact C&K today to put more than six of decades of machining expertise to work for your business. (Place "HAVE A QUESTION? – ASK A PRO!" button here)