Velan Cast Steel Gate, Globe, and Check Valves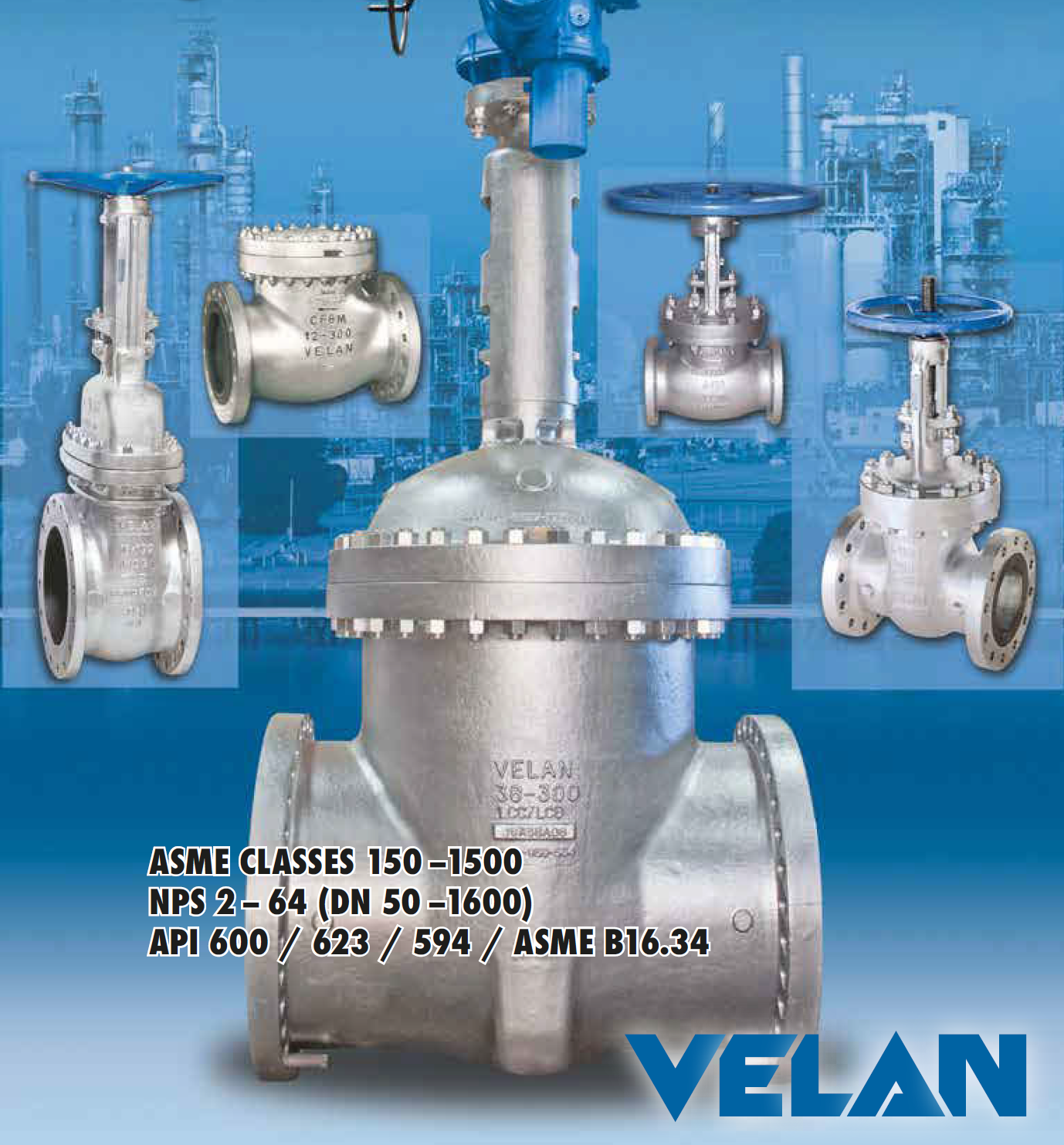 Velan Power Generation
Velan Cast Steel Gate, Globe, and Check Valves
Velan's cast steel valves set the standard for low emissions and tight shutoffs in the power and process industries. Velan's extensive line of cast steel gate, globe, and check valves boasts cutting-edge engineering, design, and manufacturing technology while meeting or exceeding the strictest emissions standards for fugitive emissions, including API 624 and ISO 15848-1.
Velan has been a worldwide leader in designing and manufacturing cast steel valves since 1950, offering end users some of the market's highest-performing solutions. Chalmers & Kubeck is pleased to partner with Velan and offer clients a broad product range for their valve needs. We firmly stand behind the Velan products we offer, providing superior customer service and support throughout a product's life span.
Types of Cast Steel Gate, Globe, and Check Valves We Offer
Velan manufacturers cast steel valves with three different types of steel — cryogenic steel, hot-formed steel, and steel alloys that meet American Petroleum Institute (API) 600 standards. Cryogenic valves perform well in extreme temperatures when transporting, storing, or producing liquified gases like oxygen, hydrogen, helium, argon, and natural gas. Hydrofluoric (HF) acid valves are ideal for acid applications requiring exceptional strength and corrosion resistance.
API 600 covers cast steel valves for the natural gas and petroleum industries, primarily where erosion, corrosion, and other service conditions require heavy wall sections, full port openings, and extra large stem diameters. In addition, cast steel valves with bellow seals offer increased protection against external leakage.
C&K supplies an entire lineup of Velan cast steel gate, globe, and check valves, including:
API 600 Swing Check Valves
API 600 Globe Valves
API 600 Gate Valves
Cryogenic Swing Check Valves
Cryogenic Check Valves
Cryogenic Globe Valves
Cryogenic Gate Valves
Cast Steel Globe Valves With Bellow Seals
Cast Steel Gate Valves With Bellow Seals
Cast HF Acid Swing Check Valves
Cast HF Acid Globe Valves
Cast HF Acid Gate Valves
Features And Benefits
Velan cast steel valves feature various connection types depending on the specific design, including standard flanges, butt welds, and socket welds. These valves come in multiple sizes, ranging from 2 to 64 inches in nominal pipe size (NPS) and 50 to 1,600 millimeters in nominal diameter (DN). They cover a range of American Society of Mechanical Engineers (ASME) pressure rating classes, from 150 to 1500.
Velan's highest priority is quality. The Velan team designs and manufactures all products to emphasize safety, low emissions, minimal maintenance, easy operation, and a long, reliable service life. All valve designs meet API standards and comply with ASME B16.34 requirements.
Common Applications
Velan gate, globe, and check valves serve an extensive industry range, including:
Process Industries: Types of process operations include chemical, oil, petrochemical, wastewater treatment, refining, pharmaceutical, pulp and paper, mining, and food processing.
Power Industries: Power applications include coal, gas, nuclear, and renewable and district heating.
Upstream and Midstream Industries: Examples include liquified natural gas and regasification terminals, offshore production platforms, tank farms and tanker carriers, and shipbuilding.
Learn More With C&K
If you'd like to learn how gate, globe, and check valves from Velan can benefit your application, trust the experts at C&K. We've been a top cast steel valve supplier for decades, providing customers with the highest-quality and most cost-effective industrial solutions. Connect with our team online today to request pricing or obtain additional product information.