Velan Forged Steel Bonnetless Y-Pattern Valves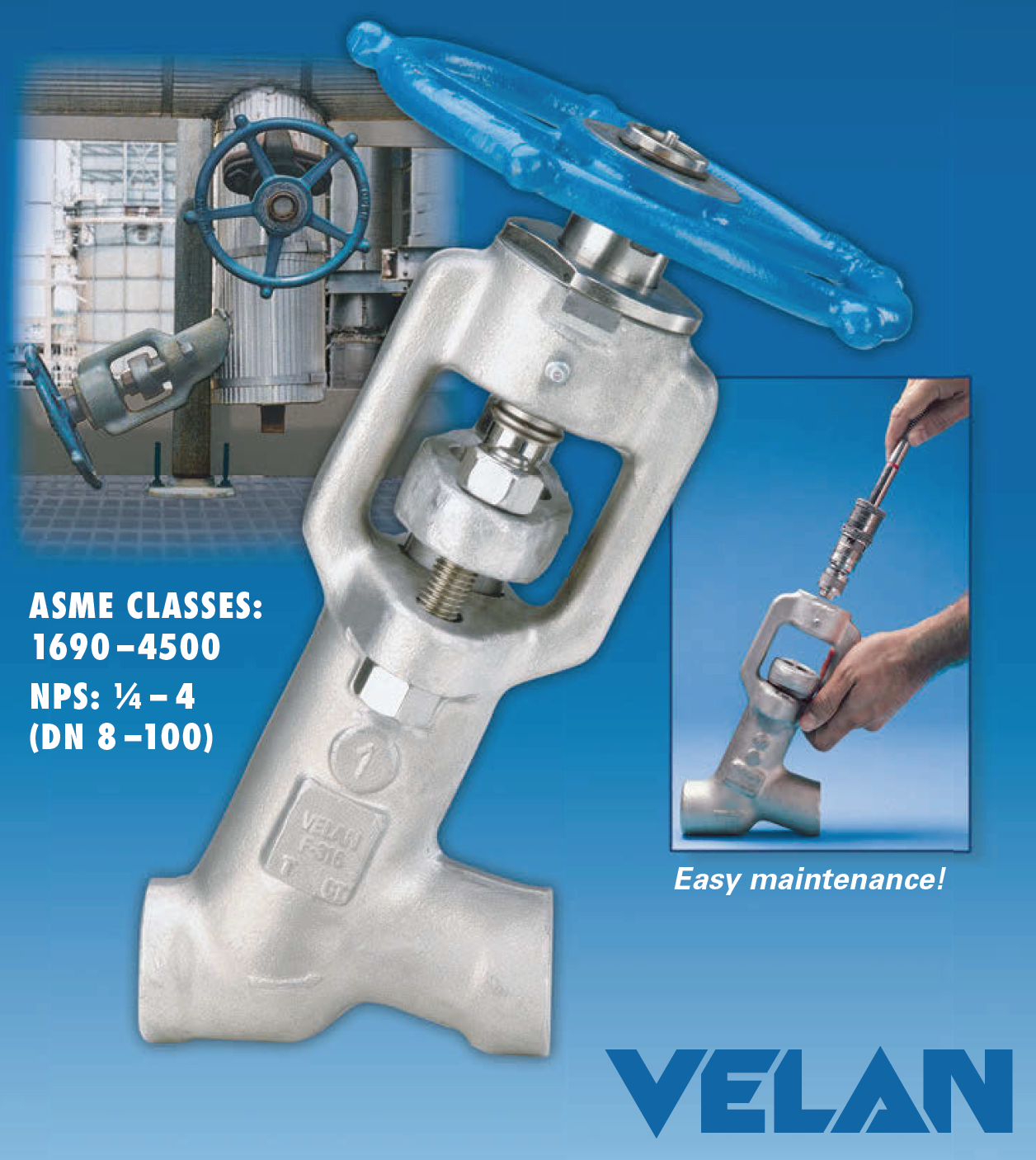 Velan Power Generation
Velan Forged Steel Bonnetless Y-Pattern Valves
Velan has been the world's leading manufacturer of forged steel bonnetless and Y-pattern valves for decades. Bonnetless valves work well for the most demanding applications, including high-pressure steam operations. Y-pattern designs utilize angled stems and seats to enable a straighter flow path at the full opening while offering the least flow resistance.
Velan has been a global leader in the engineering and development of valve products for decades, offering solutions for a broad industry range. Chalmers & Kubeck is proud to partner with Velan to offer one of the market's most comprehensive selections of forged steel valves. The engineers at C&K have years of combined experience helping clients find the optimal valve solutions for their unique needs.
Features And Benefits
One-piece bonnetless globe valves from Velan lead the industry for applications involving high-pressure drops, steam injection, steam blow-down, and fast-acting isolation. These valves provide long service life and superior performance for the most demanding operations in the harshest environments.
Forged steel bonnetless valve features include:
Best flow characteristics
Outstanding design and operational features
Lowest operational torque
Minimal maintenance cost
An enclosed, protected stem for dust and dirt resistance
A well-lubricated stem nut, rotating on two thrust bearings
Velan's one-piece Y-pattern valves suit applications requiring high-performance service, low maintenance, and inline internal repairs. The optimal design streamlines flow while eliminating deposits and corrosion for demanding applications.
Several primary features of the Y-pattern design include:
A non-rising handwheel
Quick and easy assembly
No weld to remove
A non-rotating splined stem
Tighter packing for low fugitive emissions
A two-piece positive backseat
A cobalt-chromium ring for positive shutoff
Common Applications
C&K offers several bonnetless and Y-pattern valve designs from Velan, including:
Bonnetless Globe Valves: These valves come in nominal pipe sizes (NPS) ranging from ¼ to 4 inches and 8 to 100 millimeters nominal diameter (DN). These designs offer American Society of Mechanical Engineers (ASME) class pressure ratings from 1690 to 4500. Design options include socket weld, butt weld, or threaded connections and provide quick and easy maintenance with one-step removal of all working parts.
Y-Pattern Globe Valves With Bellow Seals: This design offers sizing from ½ to 2 inches NPS and 15 to 50 millimeters DN while covering ASME class pressure ratings from 1500 to 2500. These valves deliver a long life of up to 5,000 cycles and are ideal for high-pressure and high-temperature conditions. Standard connection options include threaded, socket weld, and butt weld.
Piston Check Valves: These valves come in NPS sizes ranging from ¼ to 4 inches and DN sizes from 8 to 100 millimeters with threaded, socket weld, or butt weld connections. ASME pressure classes include ratings from 1690 to 4500. The design features self-draining waterways and a solid cobalt-chrome disc guided for fast and full seating.
Contact the Experts at C&K Today
If you're interested in learning more about how Velan dual-plate check valves can benefit your application, the experts at C&K can guide you. We have decades of experience supplying valves to an extensive industry range, gaining a reputation for exceptional quality and superior customer service. Contact us online today to get started.