Velan Pressure Seal and Bolted Bonnet Valves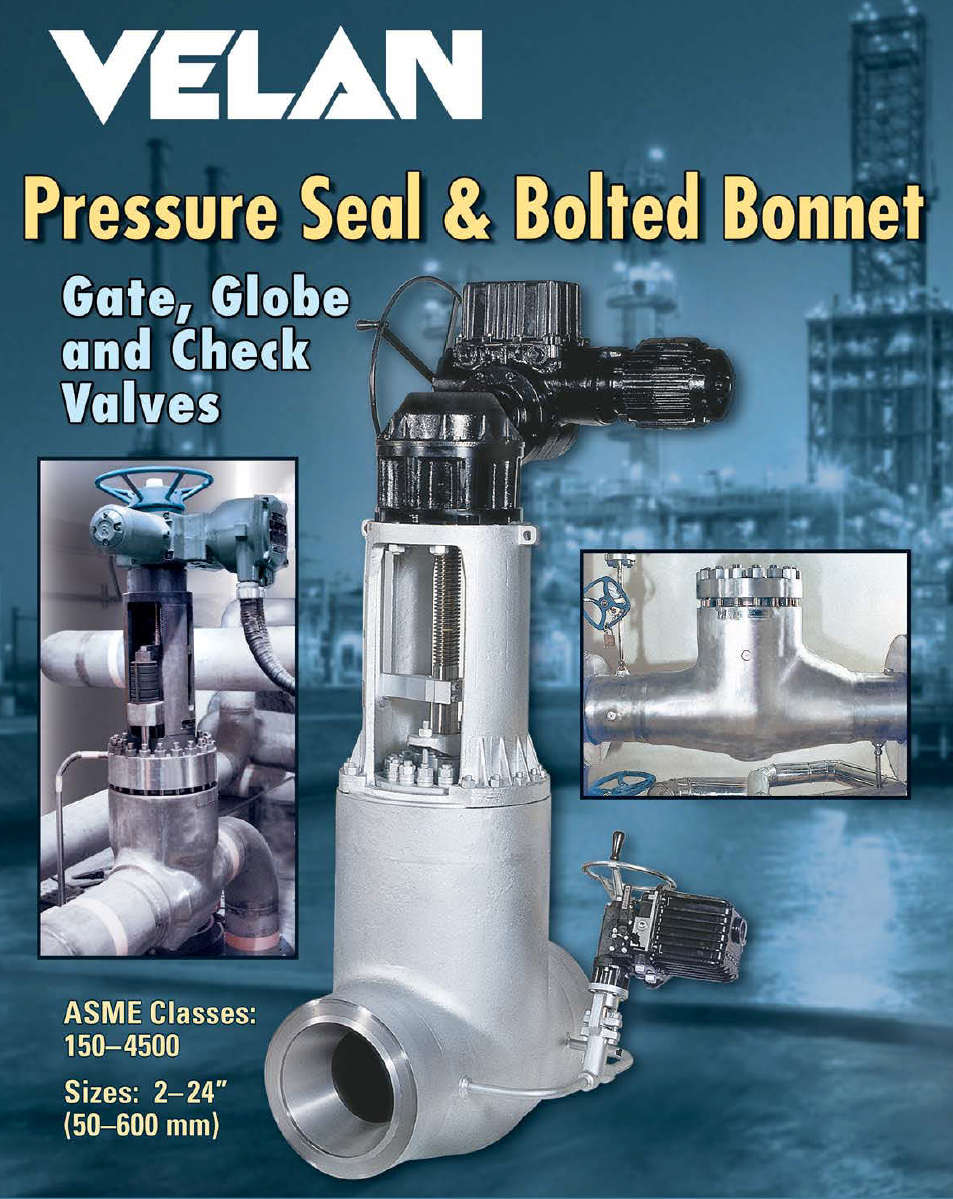 Velan Power Generation
Velan Pressure Seal and Bolted Bonnet Valves
Velan leads the way in manufacturing high-performance pressure seal valves and bolted bonnet valves for some of the world's leading industrial companies. Velan's pressure seal line includes multiple gate, globe, and check valve designs ideal for many high-pressure (HP) and high-temperature (HT) applications. Bolted bonnet valves offer strong, leakproof joints with a higher bolting torque to deliver a superior seal and tightness.
Velan has been a global leader in producing high-quality valves since 1950. Chalmers & Kubeck is pleased to partner with Velan to add some of the market's top products to our comprehensive valve selection. As a top pressure seal valve supplier, C&K has decades of combined experience helping clients choose the most effective and cost-efficient solutions for their unique needs.
Types of Velan Pressure Seal and Bolted Bonnet Valves We Offer
Velan is a single source for forged, one-piece valves best suited for high-temperature and high-pressure applications. Sizes range from 2 to 24 inches in nominal pipe size (NPS) and 50 to 600 millimeters in nominal diameter (DN). The valves cover American Society of Mechanical Engineers (ASME) classes from 150 to 4500. Depending on the valve design, standard connections range from flanges to butt welds to socket welds.
C&K supplies various Velan pressure seal and bolted bonnet valves, including:
Flexible Wedge Gate Valves
Parallel Slide Gate Valves
Globe Valves
Check Valves
Features And Benefits
Velan pressure seal valves feature Velan's proven design, delivering exceptional valve seat tightness and freedom from sticking. The wedge guiding minimizes seat scuffing and rubbing, producing a longer service life than similar designs. Pressure seal valves from Velan require little to no maintenance over their life cycle.
Bolted bonnet valves contain high-quality castings and superior-strength forgings to deliver the leakproof performance your application needs. Bolted bonnet valves from Velan set industry standards for shutoff, emissions, and repairability.
Common Applications
Businesses globally rely on Velan valves to help keep their operations running smoothly and efficiently. Velan valves outshine the competition in many of the world's harshest and most demanding applications. Several examples of the most common industries these valves serve include:
Nuclear Power: Velan has delivered valve solutions to over 300 nuclear stations in 27 different countries, including 90% of all stations in the United States and 100% of all stations in Canada, France, Taiwan, Korea, and China.
Thermal and Cogeneration Power: Velan has supplied valves in various sizes and pressure ratings to over 2,500 thermal power stations globally for HP and HT service up to 4,500 pounds per square inch (psi) and 1,200 degrees Fahrenheit.
Chemical, Petrochemical, and Related Process Applications: Operations include coal liquefication and gasification facilities to olefin and coker plants.
Marine and Navy: Velan has supplied a comprehensive range of valve solutions to the United States Navy and other NATO fleets for over five decades, including all U.S. Navy nuclear aircraft carriers, over 900 Navy ships, and many U.S. Navy nuclear destroyers and submarines.
Discover More With C&K
C&K stands behind all the Velan valves we supply with in-house technical support and superior customer service. If you'd like additional information or product pricing for the pressure seal and bolted bonnet valves we offer, our knowledgeable and experienced team can assist you. Contact us online today to get started.