Model 4700P / 4700E Analog Valve Positioner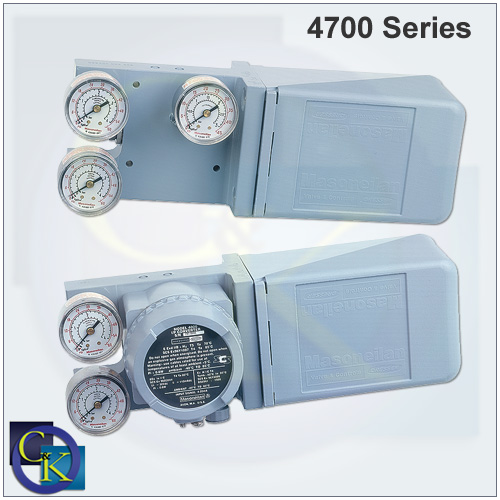 Instrumentation, Masoneilan
Model 4700P / 4700E Analog Valve Positioner
The Masoneilan Model 4700 control valve positioners offer flexibility and consistency with modular design construction and corrosion resistant packaging. They can be configured either as a standard pneumatic valve positioner or as an electro-pneumatic device by simply assembling the separate I/P transducer module to the base pneumatic valve positioner. These instruments are for either reciprocating or rotary type valves, and are available in optional configurations for hazardous area applications.
Features And Benefits
Flexibility to use with either reciprocating or rotary control valves assists in optimizing process control performance through customizable cam characterization.
Optional high capacity pneumatic bloc 4800 model for accurate positioning and fast response times on large size actuators.
Rugged turnbuckle and lever assembly couples stem motion to the cam when mounting reciprocating actuators.
Modular design construction makes it a simple and easy-to-maintain device, also easy to assemble, calibrate, and operate in many control applications.
Configurable for direct or reverse operation utilizing the same mounting orientation.
Common Applications
The Model 4700P and 4700E analog valve positioners are qualified for use in hazardous area environments including applications requiring ATEX, FM or CSA certifications with explosion-proof and intrinsically safe ratings.