Model 77/78 Air Filters/Air Regulator Sets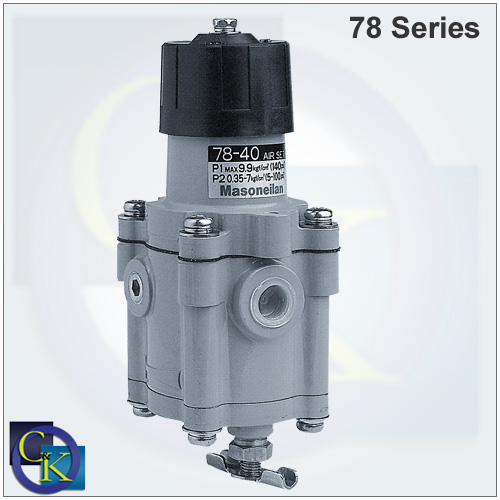 Instrumentation, Masoneilan
Model 77/78 Air Filters/Air Regulator Sets
GE offers a variety of air filter regulating devices, including the Masoneilan Model 78 Air Filter Regulator for controlling the supply of process plant air to control valve accessories.
Maximum inlet pressure of 210 psi (15 bar)
Regulated set pressure range of 5 psi to 100 psi (0.35-7 bar)
Externally adjustable for fine-tuning
Include a locking feature to ensure output pressure remains at the desired levels.
Features And Benefits
Lightweight package supports mounting flexibility using either separate brackets or simple nipple mounting directly to pneumatic valve accessories
Optional two micron filters offer protection against air supplies with finer dirt and particulates
Corrosion resistant materials and finishes enable implementation in a wide range of environmental conditions and atmospheres
Low air consumption helps reduce operating costs and improve efficiency
Wide operating temperature range from -40oF to +182oF (-40oC to +83oC) meets many application requirements
Common Applications
The Model 78 air filter regulators are a good choice for applications that require regulating process plant air to Various control valve pneumatic accessories.