Limitorque SMB Electric Actuators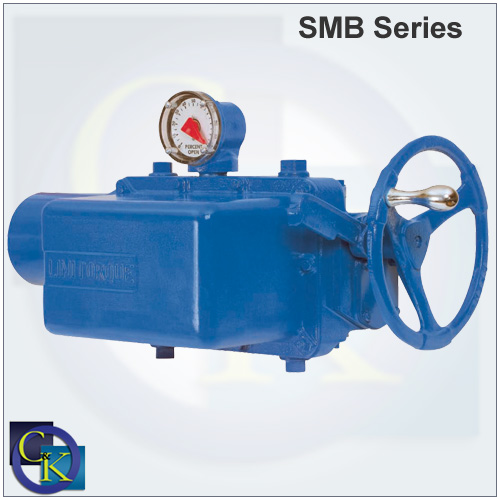 Limitorque
Limitorque SMB Electric Actuators
Whether direct-mounted to multi-turn valves, dampers or sluice gates, or side-mounted to HBC or PT worm gear reducers for quarter-turn applications, Limitorque SMB actuators deliver unsurpassed performance.
Introduced in the early 1960s, the SMB and the spring-compensated SB actuators for high-speed and high-temperature service are at work for the U.S. Navy, every nuclear power generating facility in the USA, and virtually every other industrial environment. With a rugged cast iron housing and precision-machined gearing,the SMB and SB actuators embody sensible design and solid construction.
From the extreme cold of the Alaskan North Slope to the extreme heat of North Africa and the Middle East, SMB actuators perform reliably year in and year out. For critical or demanding service conditions, trust the industry standard of excellence — SMB.
Features And Benefits
50+ years of installed history
Unmatched durability, dependability and flexibility
Torque output to 60 000 ft-lb and thrust output to 500 000 lb
Fully qualified for nuclear applications to IEEE 384, 323, and 344
Weatherproof, explosion-proof and submersible constructions
Common Applications
Petroleum Production and Refining, Sewage Collection and Treatment, Tank Farm Transfer, Water Supply and Distribution (water), Boiler Circulation, Nuclear Service, Desalination, Filtration, Gas Production, Heavy Oil, Oil Sands and Shale, Molten Salt Transfer, Decoking