Limitorque MX Electronic Valve Actuator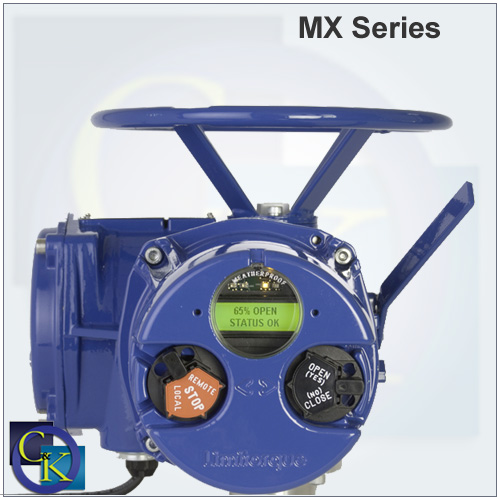 Limitorque
Limitorque MX Electronic Valve Actuator
The Limitorque MX is the multi-turn product for the non-intrusive, double-sealed, smart electronic actuator marketplace. Introduced to the market in 1997, the MX is built upon a wealth of experience and performance in the valve actuation industry. Thousands are installed on all six habitable continents and in all major market segments, including power generation, oil and gas, plus water and waste water treatment.
What sets the MX actuator apart is the combination of control and reliability facilitated by advanced Limitorque technology. Simple to set-up and operate, the MX employs a graphical dot matrix display with local control switches to deliver instant actuator status and valve position in eleven languages.
Features And Benefits
Redundant absolute encoder with B.I.S.T. – never needs batteries
Graphical dot-matrix display allows 180° rotation of text, diagnostic graphs and supports 11 languages: English, Spanish, German, French, Italian, Portuguese, Russian, Malay, Mandarin, Katakana, and Turkish.
Torque ranges from 20 ft-lb (27 Nm). to 1700 ft-lb (2304 Nm)
Double-sealed terminal block compartment prevents moisture ingress into controls enclosure.
Available with arctic temperature to -76°F (-60°C) and solid-state starter options.
Optional Bluetooth® wireless connectivity with a range up to 32.8 ft (10 m). When used with Limitorque Dashboard™ Windows®-based software, diagnostic information is easily transferred to a PDA, laptop computer or cell phone.
SIL 2 and SIL 3 capable certification to IEC 61508 for standard MX and most every option.
Common Applications
Heavy Oil, Oil Sands and Shale, Molten Salt Transfer, Nuclear Charge, Petroleum Production and Refining, Sewage Collection and Treatment, Gas Production, Water Supply and Distribution (water), Boiler Circulation, Decoking, Desalination, Filtration, Tank Farm Transfer.