Limitorque L120 Multi-Turn Electric Actuator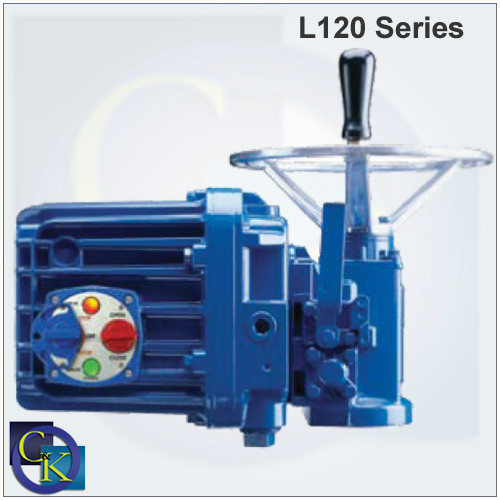 Limitorque
Limitorque L120 Multi-Turn Electric Actuator
For more than 25 years, the Limitorque L120 series multi-turn electric actuators have been at work in a wide variety of processes. Whether controlling valves in commercial power feedwater or steam systems, oil and gas refining and coking processes, or water and wastewater filtration and other treatment processes, the L120 is proven to deliver reliable performance.
The Limitorque L120 series is available in nine sizes covering torque requirements to 60 000 ft-lbs. (81 349 Nm) and thrust requirements to 500 000 lb (2 224 kN). When combined with the HBC and PT worm gear operators for quarter-turn valve control and multi-turn dampers, or with the B320 or MT bevel gear operators for gate, globe, and slide & sluice gates, the L120 is well-suited to meet the wide range of industrial applications.
Features And Benefits
Aluminum and ductile iron housings offer durability
Available in weather proof, submersible and explosion-proof construction for the most demanding environments
Anti-friction bearing supported alloy steel worm shafts with bronze worm gears provide years of reliable operation
Manual declutching disconnects the motor from the drive train for handwheel operation.
Automatic clutching to motor operation occurs when power is applied.
Torque overload protection
Position control via geared limit switches that are in step with valve disk position, whether in motor or manual operation
Actuators connect with most network protocols through the UEX electronic controls package
Common Applications
Tank Farm Transfer, Water Supply and Distribution (water), Boiler Circulation, Decoking, Desalination, Sewage Collection and Treatment, Gas Production, Heavy Oil, Oil Sands and Shale, Molten Salt Transfer, Nuclear Service, Petroleum Production and Refining, Filtration.