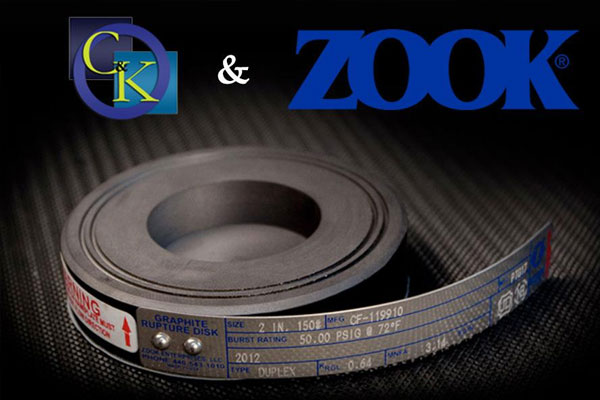 C&K proudly announces new Zook line
WATKINSVILLE, GA (November, 2017) – Chalmers & Kubeck – South is pleased to announce that we have been appointed the EXCLUSIVE representative for ZOOK rupture disk for the states of GEORGIA, FLORIDA, SOUTH CAROLINA, NORTH CAROLINA, VIRGINIA, and TENNESSEE. This prestigious manufacturer will expand our offering for overpressure protection to include Consolidated Pressure Relief Valves, Consolidated Pilot Operated Valves, and now ZOOK Rupture Disks.
Chalmers & Kubeck has a long history of working closely with the chemical, petro chemical, pulp & paper, and power industry to insure their process equipment is protected from exposure to overpressure. C&K has both ASME Section I and ASME Section VIII code stamps for the assembly of new Consolidated pressure relief valves and has the NBBI VR stamp for the repair and testing of all pressure relief valves.
Rupture disks are often used in conjunction with Pressure Relief valves when challenging applications occur. ZOOK disks installed beneath Consolidated PSV's can provide outstanding solutions for systems that require protection for tough processes. ZOOK disks can also be used as standalone overpressure protection when massive amounts of flow capacity is required to prevent a catastrophic failure.
About Chalmers & Kubeck – South – CKS along with Chalmers & Kubeck-North (aka Monarch Valve) and Chalmers & Kubeck, Inc. is part of the Chalmers & Kubeck family of companies. Headquartered in Watkinsville (Athens), Georgia, this well-established valve and actuation organization provides outstanding customer application support from huge inventories. With eight (8) facilities totaling over 120,000 sq feet, C&K-South is well equipped to provide outstanding customer service by factory trained and certified technicians.
About ZOOK – ZOOK is a global market leader of rupture disks (bursting discs) with over 90 Years of Expertise. They manufacture the most extensive line of high quality metal & graphite rupture disks and overpressure protection products in the world. They pride themselves on developing the safest solution to overpressure protection problems, by understanding your operation, process and application.